By greatk2 |
23
October 2023 |
0
Комментарии
Everything You Need to Know About Frosted Window Film
Frosting your windows is one of the best ways to add style and privacy to your home or office. It's also a practical way to decrease the amount of sunlight that goes inside your space without sacrificing the view. There are different ways to frost your windows, but the most popular and effective method is using the
frosted window film
. In this blog post, we'll discuss everything you need to know about it, including the types and benefits of frosted window films, and where to get them.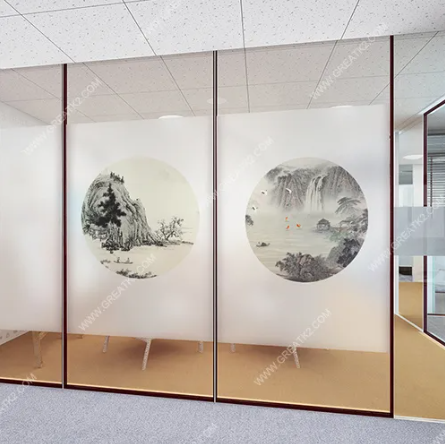 1. Types of
Frosted Window Film
There are several types of frosted window film, and each offers different levels of privacy and light control. One of the most popular is the decorative frosted film, which features various designs and patterns that add a touch of elegance and sophistication to your windows. Another type is the blackout frosted film, which is ideal for bedrooms and media rooms as it blocks out the light and provides complete privacy. The third type is the solar control frosted film, which helps reduce heat and glare, making it perfect for homes and offices located in sunny areas.

All K2 frosted window films use self-adhesive adhesive, which is different from the static cling window film. The self-adhesive sticks to the glass very well, and it will not fall off even if it is scrubbed vigorously. The following is the specific frosted window film model of K2. You can choose your favorite type. Contact sales online or Email to us to get the free sample and price.
2. Benefits of Frosted Window Film
Frosted window films offer many benefits, such as increased privacy, reduced heat and glare, and lower energy bills. They also help prolong the life of your furniture, artwork, and carpet by blocking harmful UV rays that can cause fading and discoloration. Moreover, they're easy to install and maintain, and they require no special cleaning or maintenance tools. You can clean them with a damp cloth or mild soap and water.
3. Where to Get Frosted Window Film
Frosted window films are widely available in home improvement stores and online shops. However, not all frosted films are created equal, and some may not offer the quality and durability that you need. That's why it's important to choose a reputable brand that has been in the industry for years. K2 is a brand that you can trust when it comes to frosted window films. They offer a wide range of types and designs, and they use high-quality materials that are engineered to last. To get the free sample and price, you can contact their sales online or email them.

Overall, frosted window film is an affordable and practical way to enhance the look and functionality of your windows. It's easy to install, maintain, and replace, and it offers a wide range of benefits without sacrificing the view. If you're planning to buy one, make sure to choose a reputable brand like K2 to get the best value for your money. Contact their sales online or email them to get the free sample and price, and see the difference that frosted window film can make to your space.
оставьте ответ
Ваш электронный адрес не будет опубликован. Обязательные поля отмечены. *